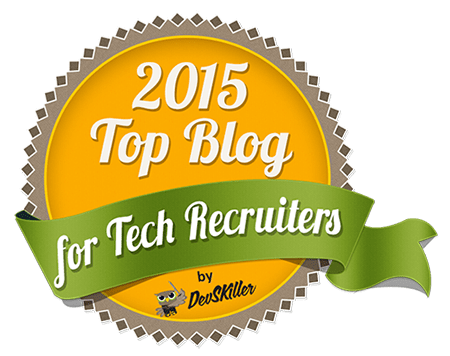 Recruiting tech talent is a tough job. The times when you could post a job ad on a job site and then wait for candidates to flood your inbox with resumes are gone for good. To recruit in IT, you need to test and adopt new methods of recruiting, tools, and sourcing techniques, and some of the best sources for this are recruiter blogs. That way you can see what combination of techniques works by bringing you the most and best candidates.
In order for you to stay up to date with trends in tech recruiting market, we gathered Top 31 recruiter blogs that will help you find and recruit the best programmers. We've chosen them from hundreds of recruiter blogs on the internet, giving you only the most valuable ones.
We divided our list of recruiter blogs into 4 groups:
Recruiting the best programmers

On programming that you can't miss

Social recruiting

Recruiting tips, methods, and techniques
Please remember to congratulate the recruiter blogs that are most helpful for you, because they do a great job!
Recruiter blogs for recruiting the best programmers
The Stack Overflow Careers blog is your go-to place for everything involving recruiting the best tech talent. You can find here useful and practical tips on sourcing, interviewing, onboarding, recruiting and much more. Whether you want to learn how to write an effective developer job listing or read up on the latest recruiting practices, it's the right place to visit.
The blog is run by Stack Overflow, which provides a language-independent collaboratively edited question and answer site for programmers.
Congratulate Stack Overflow on Twitter
'Understanding Geeks made simple' – this blog helps non-programmers master technical recruiting without being technical. You can find here tips on tech/IT recruiting, explanation of tech terms, interviews with programmers about their hiring experience and become familiar with various programming languages.
It's very useful as you get insights and valuable experience from someone who understands both software development and recruiting.
The blog is written by Geekology which offers technical training programs for modern tech recruiters.

Congratulate Geekology on Twitter
Tech recruitment made easy. As SmartRecruiter states, it provides you with all the information you need for hiring successfully. You can find here the latest news and tips on hiring programmers and developers divided into categories such as: tech recruiting, startup recruiting, social media recruiting, recruiter advice, and interview tips.  
The blog is run by SmartRecruiters, owner of the Talent Acquisition Platform.
Congratulate SmartRecruiters on Twitter
This blog lets you keep up to to date with the latest thoughts, ideas, tips and techniques for recruiting and sourcing. It serves as a good source of information on recruiting trends and strategies, social recruiting as well as interviewing, employee engagement and employer branding. If you are interested in tech recruitment then go to the IT recruiting category.
The blog is run by Recruiting Division, which provides on-demand recruiting and sourcing solutions.
Congratulate Recruiting Division on Twitter
The HR Tech World Blog gathers news and opinions from HR community. This blog helps you stay up-to-date with HR topics in tech world. Learn about new technologies, recruiting techs, trends. You'll also find here inspiring interviews with founders and CEOs of high-powered companies.
The blog is run by the organizers of one of the biggest HR tech congresses.
Congratulate HR Tech World on Twitter
IT Insights lets you understand where the IT world is heading next. Modis' IT staffing experts share their understanding of trends in the IT sector and knowledge, connecting you with relevant and influential information to keep you in the know and stay competitive. Here you can get access to valuable IT White Papers and interesting IT Infographics.
IT Insights is run by Modis, IT staffing agency that connects candidates to top tech jobs.
Congratulate Modis on Twitter
The DevSkiller Blog is focused on recruiting programmers. Here, you will find useful articles and tips for tech recruiters on how to select, recruit and hire the true performers.
The blog is run by the DevSkiller team, that provides online programming skills assessment platform by using online coding tasks, code review challenges, and multiple-choice tests.

Congratulate DevSkiller on Twitter
Recruiter blogs on programming that you can't miss
Coding Horror is a blog about programming from a human factors perspective: thoughts on software usability and effective team development. Often the author writes about programming in a light way.
The blog is run by Jeff Atwood, an experienced web and software developer, co-founder of the question-and-answer website Stack Overflow and the Stack Exchange Network. He believes that: "In the art of software development, studying code isn't enough; you have to study the people behind the software, too".
Congratulate Coding Horror on Twitter
Joel on Software is a blog devoted to software development, management, business, and the Internet. It may look outdated, but it is one of the best sources for recruiting programmers. Check the "Recruiter" section to get some evergreen tips.
The Joel on Software Blog is written by Joel Spolsky, co-founder of the question-and-answer website Stack Overflow and the Stack Exchange Network.
Congratulate Joel on Software on Twitter
Social Recruiting
One of the best sources on social media recruitment which helps you in online recruiting.
Here you can learn how to succeed in sourcing, recruiting, and talent discovery, identification, and acquisition. It is a treasure trove of tips about how to use LinkedIn, Google Plus, Facebook, Twitter, Big Data, Analytics, Social Media in recruitment.
The blog is written by Glen Cathey – experienced tech recruiter, expert, and leader on recruiting strategies, technologies, and processes for firms.

Congratulate Boolean Black Belt on Twitter
The Social Recruiting Blog provides you with tips and advice on the use of social media for recruitment, hiring, and job searching. You can also find here a collection of social recruiting interviews and podcasts on social media and online recruitment.
The Social Recruiting Blog is run by Katrina Collier, Speaker, Trainer & Writer on the use of social media in recruitment, both for hiring & job search.
Congratulate Winning Impression on Twitter
The Social Talent Blog is a blog where you can learn more about recruitment trends and get tips on how to use social media in the recruitment process. Here you can also find webinars on various HR topics.
Social Talent Blog is run by Jonathan Campbell and Vincent O'Donoghue, whose company provides online and social media training to the recruitment and staffing industry worldwide.
Congratulate Social Talent on Twitter
Sirona Says Blog is a great source to find out more about leveraging social media and technology to improve your company's recruitment strategy, social recruiting, and recruitment marketing.
The Sirona Says Blog is run by Andy Headworth, the author of book "Social Media Recruitment", a well-known recruiting influencer.
Congratulate Sirona on Twitter
SmashFly Blog provides you with information on new techniques, company success stories and helpful tips for tech recruiters. Everything that can help you improve your recruiting ROI. As far as recruitment is concerned following blog categories should be of particular interest for you: Recruiting Technology, Recruitment Analytics, Recruitment Marketing and Recruitment Metrics.
This Blog is run by SmashFly team, that offers Recruitment Marketing Platform transforming how you find, attract, engage, nurture and convert leads into applicants.
Congratulate SmashFly on Twitter
Recruiting tips, methods and techniques
Recruiting Animal Blog is a great mix of podcast and blog posts on the recruiting field. Each week, the Animal and his panel chat with a guest who has a professional connection to recruiting: a recruiter, sourcer, HR professional, or someone who makes software for the recruiting business. This can be a great place to learn on how to leverage online networks to sotop-notchnotch talent. You can listen to the Recruiting Animal Show here.
href="" data-color-override="""" data-hover-color-override="false" data-hover-text-color-override=""#fff"">
"Congratulate
The Undercover Recruiter serves as a great source on recruitment, interviewing, social networking, career management, personal branding, and job searching. Particularly useful from HR perspective are following categories: Technology (how to use recruiting technology), Employer (hire and retain the best talent), Recruiting (tips and tricks from real recruiters) and Social Media (how to use social media for recruiting and job search).
If you feel like sharing your HR experience with this community, you can do it with a guest post.
The Undercover Recruiter Blog is run by Link Humans, a social and digital marketing agency.
Congratulate Undercover Recruiter on Twitter
ERE Recruiting Intelligence serves corporate recruiters and talent acquisition professionals by providing news and insights about the recruiting industry, opinions on what's hot in the talent acquisition space, and evaluations on the best technology for recruiting. You can also participate in upcoming webinars on talent acquisition and hiring organised by ERE and its partners.
ERE Recruiting Intelligence is run by ERE Media, the go-to information and conference source for human resources, talent acquisition, and recruiting professionals.
Congratulate ERE by Ere Media on Twitter
TLNT serves HR executives and directors who want to stay informed about the latest HR news–such as legal trends in the workforce, compensation and benefits, HR technology, talent management, organizational leadership, and retention strategies. You can also participate in upcoming webinars on talent acquisition and hiring organised by TLNT and its partners.
TLNT | Talent Management and HR is run by ERE Media, the go-to information and conference source for human resources, talent acquisition, and recruiting professionals.
Congratulate TLNT by Ere Media on Twitter
SourceCon is a community of sourcing experts who share tools and tips on how to take your sourcing skills to the next level. If topics like semantic search, web-scraping and people aggregators get you excited, you'll love SourceCon.
You can also become a member of the SourceCon community where you can ask questions and share your opinions on important HR topics.
SOURCECON | Sourcing is run by ERE Media, the go-to information and conference source for human resources, talent acquisition, and recruiting professionals.
Congratulate SOURCECON by Ere Media on Twitter
Glassdoor helps employers target, influence, and convert candidates into quality hires. If you are looking for valuable information concerning recruitment process, you can find them under following sections: Talent Acquisition, Recruiting and Social Recruiting. You can also find eBooks and guides on recruiting here.
Glassdoor is a jobs and recruiting site, created to help people everywhere find jobs and companies they love.
Congratulate Glassdoor on Twitter
The Spark Hire HR and Recruiting Blog focuses on topics such as video interviewing, online recruiting, and best practices for hiring.
The HR and Recruiting Blog is run by the Spark Hire team, that offers video interviewing platform to connect with the best candidates for their job openings.

Congratulate Spark Hire on Twitter
TalentCulture is an open online community exploring the world of work. Its blog provides information on workplace culture & innovation, career strategies, talent management, and HR technology. It features an extensive collection of posts by expert contributors from across the community.
You can also broaden your HR horizons through TalentCulture forum named #TChat Twitter and podcasts called #TChat Radio.
Congratulate TalentCulture on Twitter
HR Kitchen serves as a good source on ideas and best practices in hiring and HR. Check this site for recruiting tools, how to articles, and tips on recruiting and HR strategy.
HR Kitchen is run by Recruiterbox team, who provide software to track job applicants.

Congratulate Recruiterbox on Twitter
RecruitingDaily is online media resource for today's recruiting world, offering a signature mix of content, news, webinars, podcasts, videos, eBooks, white papers, and events that develop professional best practices. RecruitingDaily is much more than just information website. To its network belongs RecruitingBlogs, RecruitingTools, RecruitingWebinars and RecruitingConferences. All of them are worth visiting regularly.
Congratulate RecruitingDaily on Twitter
The online community for HR professionals – the site for those who want to be up-to-date with HR world which covers everything on innovations and best practices in the HR field. HR articles are divided into following categories: Lead, Engage, Perform, and Talent. You can also become a member of this community, discuss important HR topics and share your knowledge in the field.
The blog is run by Sift Media, B2B publisher, specialising in online, interactive professional communities.
Congratulate HRZone on Twitter
Fistful of Talent is a blog where tech recruiters, HR pros, managers, and consultants are brought together and share their experience. The center of the conversation is talent – which includes recruiting as well as everything you do with the talent once it's in the door.
You can find here section devoted to Recruiting and Selection.
The Fistful of Talent blog is run by Kris Dunn, Founder of HR Capitalist and Fistful of Talent.

Congratulate Fistful of Talent on Twitter
HR Bartender Blog is a friendly place to discuss workplace issues. If you are a recruiter then Recruiting and Retention section is for you. Here you can find a lot of useful tips and articles showing hands-on experience in HR field.
The HR Bartender Blog is run by Sharlyn Lauby, an experienced and well recognized in HR world consultant.
Congratulate HR Bartender on Twitter
The Marenated blog helps you become a better recruiter and hr specialist. You can find useful articles under categories such as: HR, Recruiting and Company Culture. On this blog, you can find a couple of podcasts which also cover the HR field.
The Marenated Blog is run by Red Branch Media, a full-service B2B marketing agency, primarily focused on HR and global workforce vendors.
Congratulate Marenated on Twitter
BuzzRecruiter provides insightful articles on recruitment from a marketing perspective. You can find tips here on online presence, social media, and branding for recruiters.
This blog serves as a good source on how to reach candidates better, improve recruiting marketing strategy, and campaigns.
The blog is written by BuzzRecruiter, a marketing agency that dedicated its services to Recruiting and Staffing Industry.
Congratulate BuzzRecruiter on Twitter
The Lever Blog deals with recruiting, candidate sourcing and start-ups. Sometimes you can find here also tips on tech recruitment. Lever also organizes webinars on various HR topics held by their partners.
The blog is run by Lever, which offers applicant tracking system for companies.
Congratulate Lever on Twitter
I/O At Work bridges the gap between I/O Psychology, HR Management, and Job Performance by making it easy to access and apply difficult, hard to find, research. This site helps you stay on top of the latest-and-greatest discoveries in HR-related fields by gathering articles from multiple journals.
From recruiter's point of view, probably the most interesting articles can be found in following sections: Recruiting, Staffing, Interviewing and Assessment.
Congratulate I/O At Work on Twitter
Extras
TechCrunch provides breaking technology news, opinions, and analysis on tech companies from around the world. All news on tech world in one place.  
Congratulate TechCrunch on Twitter
RECOMMENDED READING: The 2020 DevSkiller IT Skills Report