CTO Roles and Responsibilities
Technology drives modern business. And yet, the Chief Technology Officer is one of the most undefined positions among C-level management making it important to identify CTO roles and responsibilities.
An experienced CTO is often the oracle of technology within their organization. They bring progressive ideas to the company and find advanced tech solutions.
To hire the perfect specialist, recruiters need to fully understand the CTO roles and responsibilities.
What is a CTO?
The CTO position and responsibilities is considered to be one of the vaguest C-level roles as the CTO roles and responsibilities depend on a number of factors. These include startup area, business processing style, the number of in-house and outsourced workers, and many more.
Academic Publishers Taylor and Francis define a Chief Technology Officer's role as follows:
"An executive-level position in a company or other entity whose occupation is focused on scientific and technological issues within an organization."
While that's a perfectly sound definition let's delve a bit deeper into the world of CTO roles and responsibilities.
A CTO is usually the person in charge of the organization's technological needs as well as its research and development (R&D). Sometimes known as a Chief Technical Officer, this individual thoroughly examines the short and long-term needs of an organization. They then sanction investments designed to help the organization reach its objectives.
A CTO usually reports directly to the Chief Executive Officer (CEO) of the firm.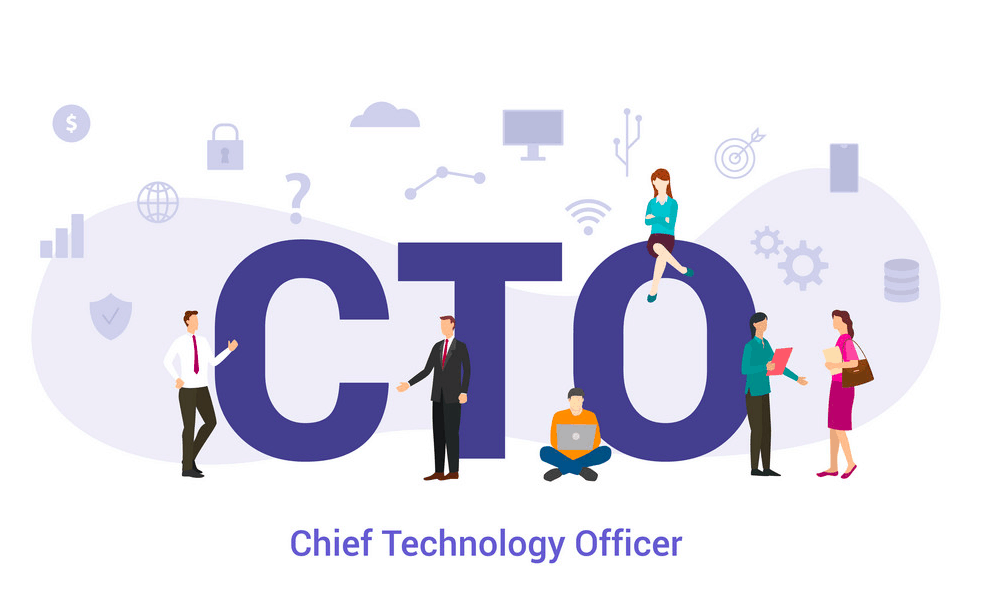 Image credit: Shutterstock
What does a CTO do?
A Chief Technology Officer's main duty is to enable a company to reach its financial and marketing goals using an innovative tech approach. By this, I mean a CTO will blend knowledge of existing and emerging technology to provide a business with the best future solutions possible.
Whether that company is newly established, or an established corporate entity is an important factor in what a CTO is responsible for. Keep in mind there's no uniform standard for a CTOs role and responsibilities.
They may be hired for two main purposes — to take care of internal business operation processes or to develop innovative products.
Image credit: Medium
CTO responsibilities
Typically, the role of a CTO will depend on the company itself, including positions they have covered and what their industry demands. We've put together a customizable list that you can use for a CTO job description.
Formulate a vision for how technology will be utilized within the company
Outline company goals and timelines for research and development
Develop technical aspects of the company's strategy for alignment with its business goals
Ensure that the technological resources satisfy the company's short and long-term needs
Verify all technological practices adhere to regulatory standards and compliance
Identify and implement innovative technologies that yield competitive advantage
Manage large teams, big data, and the product life-cycle
Help departments use technology profitably and act as a mentor to team members
Supervise system infrastructure to ensure functionality and efficiency
Build quality assurance and data protection processes
Monitor KPIs and IT budgets to assess technological performance
Capitalize on stakeholders' feedback to advise on necessary improvements and adjustments
Communicate tech-strategy to partners and investors
Maintain a consumer-focused outlook, centrally on delivering IT projects to market
Make executive decisions on behalf of the company's technological requirements
The skills a CTO needs
Not every Chief Technology Officer will have the same skills. A lack of experience in the role is sometimes unavoidable. We've compiled the top skills to watch out for in the CTO role.
Technical domain knowledge – In the tech realm, previous experience and strong knowledge of the industry is vital. Sometimes a CTO can learn along the way, in tech, it's a little more complicated. A CTO that is constantly staying on top of the latest trends is a good bet.
Strategy – An effective CTO can usually draw on experience and foresee a path to success through devising a digital strategy.
Product management – Technology and product often go hand-in-hand in the tech space. A top CTO should understand the product life-cycle and how to build new products and maintain existing ones.
Business tech savvy – A CTO with a sense of business prowess is always an advantage to help with end-user requirements. For a lot of companies, this can encapsulate the role of a CTO — CRM and ERP implementation and supporting international teams with tech issues.
People & negotiation skills and mentoring – For their departments to run effectively, the CTO should know their employees' strengths and weaknesses and how to get the best out of the. The ability to inspire people and persuade them that your vision is realistic both have their advantages. A good CTO should be someone worth looking up to.
Engineering – The CTO should have some technical background. Is the CTO focusing their time to produce software or platforms? In some companies, the technical aspect is a large part of the role. Over time, this can decrease and sometimes the CTO isn't required to code at all.
Data security and compliance – Will your CTO be required to optimize and manage organizational data? In other industries, security and compliance usually take a much higher priority. Understanding enterprise risk and standards can be painful but extremely valuable knowledge.
Image credit: Cleveroad
How CTO roles and responsibilities change with company growth
As you've might have picked up, the CTO's role and responsibilities need to be flexible even working for one company. The larger the business, the more management levels there are between a CTO and employees executing practical tech-related tasks.
If a small startup CTO works well, the company may grow quickly and the role of CTO will change significantly.
As the role of a CTO changes according to the stage of that company's life-cycle, we'll briefly detail how a CTOs responsibilities may change.
Pre-seed stage
When an idea for a business has blossomed, the CTO acts as a practical engineer, validating the technical feasibility of the business plan. The CTO (at this stage) is sometimes a co-founder and must be prepared to build the digital product architecture often without third-party help.
Data security, QA management, and deployment issues also fall into their responsibility.
Startup
At a company's inception, the CTO is heavily involved with talent acquisition and its onboarding, training, and management. Their expertise in the field is crucial to identify talent at this juncture without an experienced HR department.
Their responsibilities here include coming up with a tech stack, providing budget suggestions, and overall trying to improve their digital product. The role here evolves into more of a tech-visionary, HR specialist, and team leader as opposed to a fully-fledged developer.
Growth stage
When the life-cycle of a business is consolidating, a CTOs duties can involve overseeing several development teams while evaluating process and progress. The management of the general vision of the software product is the CTOs core driver and tasks like coding or QA are now handled by other members of the team.
The CTO is always staying alert to new trends in technology and remains the lead product architect and system administrator.
Expansion stage
At this juncture, the CTO is a senior executive which is several levels away from the hands-on task execution. They are the face of the tech-department in the public sphere and represent the company at conferences and other professional events.
They should be experienced with handling large or multiple departments and investigating and implementing cutting-edge technology.
Image credit: Keshav Infotech
The four faces of CTOs
A report by global cloud services company Access Alto has revealed the four different types of Chief Technology Officer. It pays to understand the difference between the faces and whether your need is of a technical or operational nature.
The Infrastructure Commander
In many companies the CTO is directed to manage the IT infrastructure within their organization. Here, the role includes:

Overseeing the data, security, maintenance, and network for a company
Implementing the businesses' technical strategy and managing the overall technology roadmap of the business
Established companies often look for this branch of CTO, very seldom startups.
Technology Visionary
Many tech companies, particularly within the startup world use the CTO role to conceptualize how technology is to be used within the company. Here, the role includes:
Setting the technical strategy for the company to enable it to achieve its goals
Seeking out the current and future technology that will drive the company's success
This person is likely to have been with the company since its inception.
Customer Champion
There are companies where the CTO operates as the conduit between customers and the business itself. Here, the role includes:
Being responsible for customer relations, understanding the target market, and influencing the delivery of IT projects accordingly
Drives technology to deliver customer excellence in UI and UX
The Customer Champion is common within tech companies with a software focus.
Big Thinker
The Big Thinker is a CTO that aims to stretch the boundaries of how technology is used within the business. They are often ambitious and daring. Here, the role includes:
Playing a leading part in setting the corporate strategy, how tech is used, and driving overall technological infrastructure
Creates business models, contributes to new technology, and analyses target markets
In this position, the Big Thinker is freely supported to think as ambitious as possible.
What kind of CTO are you looking for?
After meeting the different faces that exist for CTO roles, it's your job to finally identify what kind of CTO you specifically need for your company. Depending on the industry, the size of the organization, and the age of the business, the needs of companies generally boil down to two functions of Chief Technology Officer:
The technical leader is a skilled professional with deep expertise in programming, cloud-based configuration, design, and other related disciplines. They write code themselves and check the code written by other developers. This kind of CTO is commonly associated with tech startups.
Image credit: Cleveroad
The operational manager is responsible for supervising the engineering team. CTOs here are high-level developers with strong programming skills. However, purely development-related tasks aren't their prime responsibility. Operational CTOs are more focused on shaping technology strategy and managing engineering efforts than on coding. This kind of CTO is generally associated with more established companies.
Final words
As has been written, CTO roles and responsibilities are not definable in a couple of lines.
The dilemma is that the CTO is a position that falls somewhere between technical execution, operational management, and executive representation. The very best CTO has some experience with all of these.
For the success of both technology startups and global stable software companies, the role of a Chief Technology Officer is essential. The CTO leads all tech-related issues and controls all related processes aimed to solve the company's software product challenges.
While not every company needs a CTO, at the very least this role can provide an alignment between a product or service's strategy and a company's technology strategy. After a bit of research, you'll learn a lot of modern CTOs were former developers and project managers themselves.