Dados salariais completos para desenvolvedores SQL
Junho 5, 2019
O mercado de trabalho e as tendências de emprego para desenvolvedores de software estão em constante mudança. No entanto, à medida que as organizações em todo o mundo se esforçam para se tornar mais orientadas para os dados, é provável que a procura de programadores de SQL continue a aumentar. Isso acontece principalmente porque cada aplicativo hoje em dia gira em torno de dados. SQL é o que a maioria dos aplicativos usa para se comunicar com bancos de dados a fim de gerenciar toda a informação que eles contêm. Isto provavelmente terá um impacto sobre o salário dos desenvolvedores de SQL.
SQL também é usado com uma série de outras tecnologias que você pode encontrar números salariais para como Java e .NET.
Neste post, vamos abordar os seguintes tópicos:
O que é SQL?
Um salário médio de desenvolvedor SQL
Um salário de desenvolvedor SQL de nível básico
Salário do desenvolvedor da base de dados
O que é SQL?
SQL stands for Structured Query Language and is used for querying data from relational databases. PostgreSQL, Microsoft SQL Server, MySQL, Oracle, and SQLite (for mobile projects) are the most popular database engines.
Nonetheless, hiring SQL developers can be a challenging task. To land top talent, recruiters should not only understand SQL and its specific requirements but also know what to take into account during the screening process. A lot will depend on a company's starting salary, its competition, and location. Therefore, in order to stay competitive, it's important to know what the average SQL salary is. Here's an overview of the average SQL salary across the US.
Average SQL developer salary in the US
SQL developers (also known as database developers) are responsible for different aspects of creating and maintaining databases, such as writing and executing SQL queries for integrations with other applications, retrieving and editing the data, and overseeing data quality and security. SQL developers are also frequently responsible for memory management of database systems, fixing any database-related issues, creating and restoring backups, preparing documentation, and developing best practices. Moreover, they can also be tasked to migrate data from older to newer systems.
The specific tasks depend mostly on the level of experience, knowledge, and skills, as well as the requirements for the specific position. In fact, similar factors also affect the average SQL salary.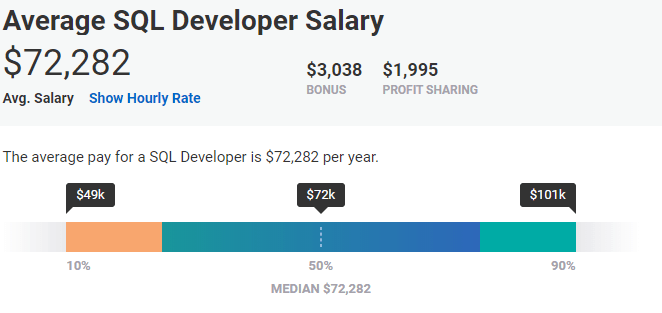 Currency: USD | Updated: 15 May 2019 | Individuals Reporting: 1,512
De acordo com Escala de pagamento, the average SQL developer salary in the United States is $72,282 per year (at the time of the publication). The median hourly rate, on the other hand, equals $35.84.
Currency: USD | Updated: 17 May 2019 | Individuals Reporting: 703
What's interesting, though, is that the average database developer salary presented by Glassdoor is evidently higher: $84,779 per year.
Currency: USD | Updated: 16 May 2019 | Individual data sources: 991
Similar salaries are reported by Indeed.com, with $84,813  per year on average.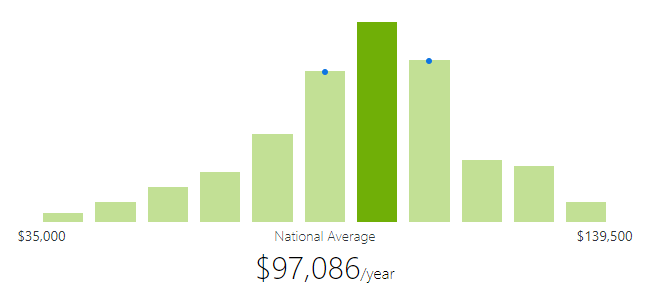 Moeda: USD | Actualizado: 22 Abr 2019 | Fontes de dados individuais: –
Still, the highest salaries can be found on ZipRecruiter, where the average annual pay for a database developer in the US amounts to $97,086.
It's clear to see that the average SQL developer salary varies depending on the source. The differences, however, stem from a number of other factors – such as experience, location, and required skills.
Experiência
It shouldn't come as a surprise that salaries change with the level of experience. According to Escala de pagamento, an average entry level SQL developer salary stands at $63,000 per year. SQL developers with mid-career experience, on the other hand, tend to earn $82,000 a year, whereas employees with 10 to 20 years of experience can expect an average salary of $89,000.
Even though ZipRecruiter seems to report the highest salaries for more experienced developers, this time the average entry level SQL developer salary presented by the platform is slightly lower: $60,324 a year.
SQL developer salary in NYC and Atlanta
Apart from experience, location also matters when it comes to database developer salary levels across the US. For example, Atlanta offers an above-average pay rate for SQL developers: 22% higher than the national average presented by Escala de pagamento, to be precise.
SQL developers can also expect higher salaries in Boston (+21%), New York (+17%), and Seattle (+16%), among others. The lowest-paying city is Houston, with SQL developer salaries 18% lower than the average.
De acordo com Indeed.com, however, the highest salaries can be found in Dallas and New York. That is despite the fact that Atlanta also scores high with its $89,300 per year on average.
Outros factores que aumentam a remuneração
There's no doubt that the level of experience and location are the most important factors that affect salaries, yet, the right skill set can also make a difference. In general, SQL developers require strong problem-solving and troubleshooting skills as well as a long list of technical skills needed to develop and maintain databases.
Popular additional  skills
Knowledge of big data technologies, i.e. Hadoop
C# skills
Transact-SQL
SQL Server Integration Services and SQL Server Reporting Services
Proficiency in JavaScript, HTML, PHP, and Oracle
Experience with Microsoft SQL Server Integration Services
Forte capacidade de resolução de problemas e de resolução de problemas
Habilidades adicionais úteis
Other skills that positively affect SQL developer salaries are:
Competências analíticas
Atenção aos detalhes
Soft skills, such as effective communication, ability to work independently and excellent time management
Database developer salary also depends on a career path that they decide to choose. Interestingly, according to Escala de pagamento, it's not very common for SQL developers to become Senior Database Administrators. Becoming a Business Intelligence Developer, on the other hand, appears to be much more popular (and lucrative).
Conclusão
As you can see, there are a few factors that can easily influence the budget of hiring a SQL developer. In order to attract the best developers, you should get familiar with the average salaries, be ready to offer competitive remuneration, and screen SQL developers accurately.
Antes de ir
Temos também outros grandes recursos dedicados a um salário de desenvolvedor de software, como por exemplo: