Utvecklingsplanen för 2020 för anställda som gör underverk
Publicerad:
Senast uppdaterad: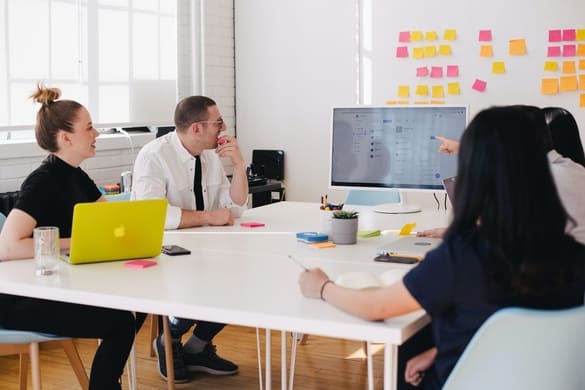 Employees are your greatest asset – one that is hard to attract and even harder to retain. What can you do to appeal to the best talent and make sure they stay with you longer?  Create an employee development plan (EDP).
In this article, we're going to discuss the process of creating an employee development plan, the benefits for you and your employees, and share an example of an effective EDP.
What is an employee development plan?
Before we dive deeper into this subject, let's first explain in short what an EDP is:
An employee development plan is "a sequence of concurrent activities, initiatives, and programs that an organization is involved with to maintain, improve, and enhance the skills, capabilities, and performance levels of its workforce and other staff members"
What are the benefits of an employee development plan?
It seems like a lot of work, and you might now be asking yourself: is it worth the time and effort? According to SHRM:
"Employee development is almost universally recognized as a strategic tool for an organization's continuing growth, productivity, and ability to retain valuable employees. If organizations neglect certain challenges, then the employee development process will be cumbersome for the organization, frustrating for employees, and of uncertain value for both".
To put it shortly, the advantages outweigh the costs. Here are a few benefits an effectively designed EDP will bring you:
How to write a development plan for an employee?
Here are some tips we recommend for writing an employee development plan.
Identify your business goals – before you start creating an EDP, agree on what you're trying to achieve – consider both longer-term and short-term goals. Align learning with company objectives to make growth meaningful. For instance, if you know your company will experience significant growth, you should probably plan on building stronger leadership – this should be reflected in your employee development plan.
Conduct a skill gap analysis – find out what skills your employees currently have, what skills are missing, and what skills you'll require in the future. Remember to be honest about your deficiencies and strengths, set realistic and specific goals. Below is an example of a skills gap template that you can have a look at. 
Källa: Creatly
Talk to your employees and map their skills through assessments and self-assessments - try not to presume that you know what skills and career aspirations your employees have. Talk with them to get a better understanding of the challenges they face in their daily work and what skills they would like to develop. For instance, some of your employees might know which direction they would like to go in but don't know what steps to take to get there, or if the company will support their decision. If you're unsure whether the employee is ready to take the next career step, use TalentBoost.It will help you identify employees who can quickly acquire the required skills based on their current competencies, as well as compare and track how skills change across teams and the entire organization.
Assess potential vs readiness – it's crucial to differentiate between having the potential to become great at something vs already having the right skillset. For example, one of your most talented developers might have the potential to become a great team leader but is not fully ready to take on this position yet. Readiness comes in many forms and incorporates the desire to take on new challenges, skills, and experience.
Consider different types of development – find ways to enable your employees to develop the necessary skills. Consider:

Stretch assignments and special projects
Working directly with a subject matter expert
One-on-one coaching and mentoring
Local networking groups

McKinsey came up with a model that describes the elements that every good learning and development program should incorporate to be effective.

Källa: McKinsey

Put it all "on paper" – after identifying the learning opportunities, create a plan with objectives and deadlines. Make sure the employee knows why they're being asked to acquire these particular skills. Explain how it will benefit them in their career and what impact it will have on the company.
Track progress and revise if necessary – check how your employees are progressing and if the development plan brought anticipated results. If not, go back to the drawing board.
New employee development plan
It's important to ensure that people who join the organization are presented with clear career paths. Creating a development plan for new employees is a great way to manage their development – remember to make it a part of your recruitment plan. The main objective is to enable the new recruit to become a useful team member which might mean:
finding their way around, learning who the key people are, and understanding company policy
building a productive relationship with their manager and co-workers
being able to communicate with customers in a professional manner
developing their tech skills for better effectiveness and efficiency
You have to find the right method to enable the new employee to meet the objectives. All of the information i.e. objectives, methods, and deadlines should be included in the new employee development plan.
Time for some employee development plan examples
As you can imagine, there are multiple types of EDPs in use. Let's discuss the most common employee development plan examples:
Performance-based plan – the oldest and the most straightforward one. Employee skills are developed based on annual performance appraisals of groups and individuals. It uses basic outcomes analysis versus goals to identify what skill gaps need to be addressed over the next time period to improve the performance.
Management-by-objectives – resembles the performance-based plan, but focuses more on short-term goals and measures group and individual performance against the objectives. After the evaluation, a clear path for improvement is implemented to guarantee better performance in the next cycle.
Succession planning – based on five year plans to enable the replacement of employees leaving the company and to train those who will take over their responsibilities.
An employee development plan template for inspiration!
An employee development plan should include the following sections:
Professional goals and aspirations
Strengths and talents
Development opportunities
Action plans
Here is an employee development plan template from the University of California, Berkeley, which you can use to create your own EDP.
You can access the full template here.
Sammanfattning
Investing in an employee development plan can bring significant benefits for both:
– the employer as it translates into higher profits and reduced turnover, and
– for the employee as it addresses their need for learning and growth.
The tech space is very competitive, with a lot of HR managers complaining about not being able to find the right candidates to fill job positions. Prioritizing employee development should help address this issue. What's more, the tech industry is more prone to change than any other industry. This frequently results in a skill gap. Creating an employee development plan will not only help organizations spot any skill deficiencies but also find ways to eliminate them.
If you're searching for a tool that will support your employee development efforts, then check out TalentBoost!
Bild:You X Ventures på Unsplash